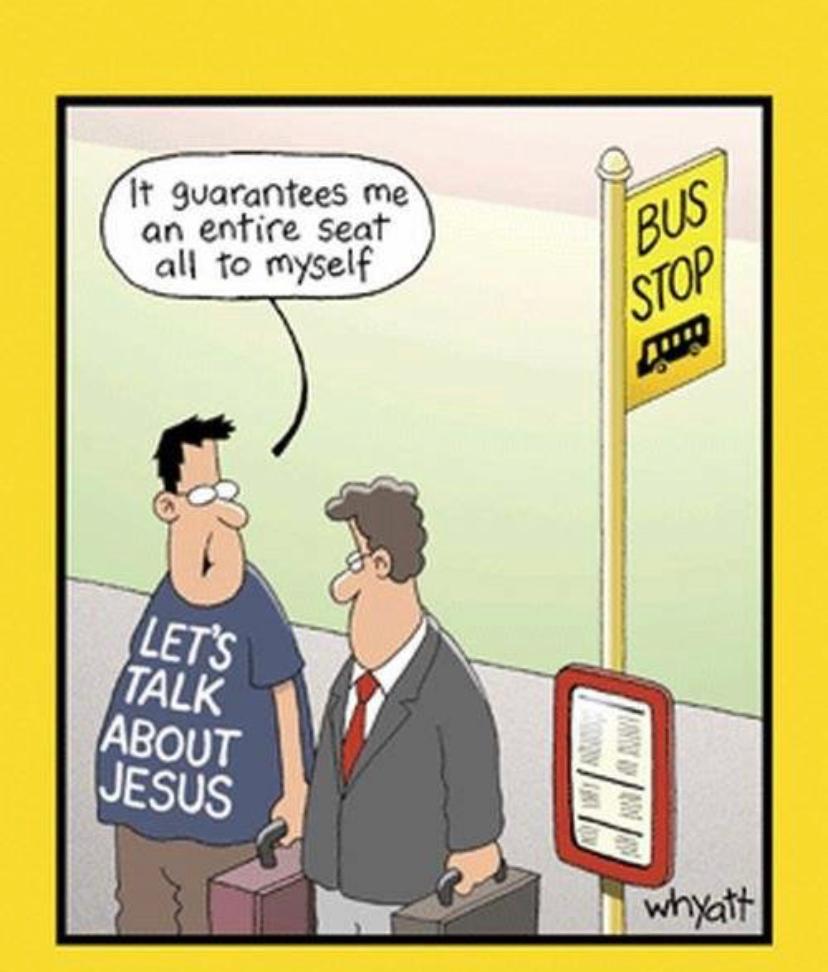 SO WHY A T-SHIRT MINISTRY???
Because.... I'm Living My Faith Outloud!
Because.... Preach Daily- and when needed, use words.
Because.... Be Like Noah! Noah didn't care what the world thought about him. He cared what GOD thought about him.
Because.... Be an everyday Missionary. It's our job just to give them the Message, Jesus will do the rest.
GET YOUR OWN JESUS SHIRT
IF YOUR LIFE REVOLVES AROUND YOU-YOU HAVE TOO SMALL AN ORBIT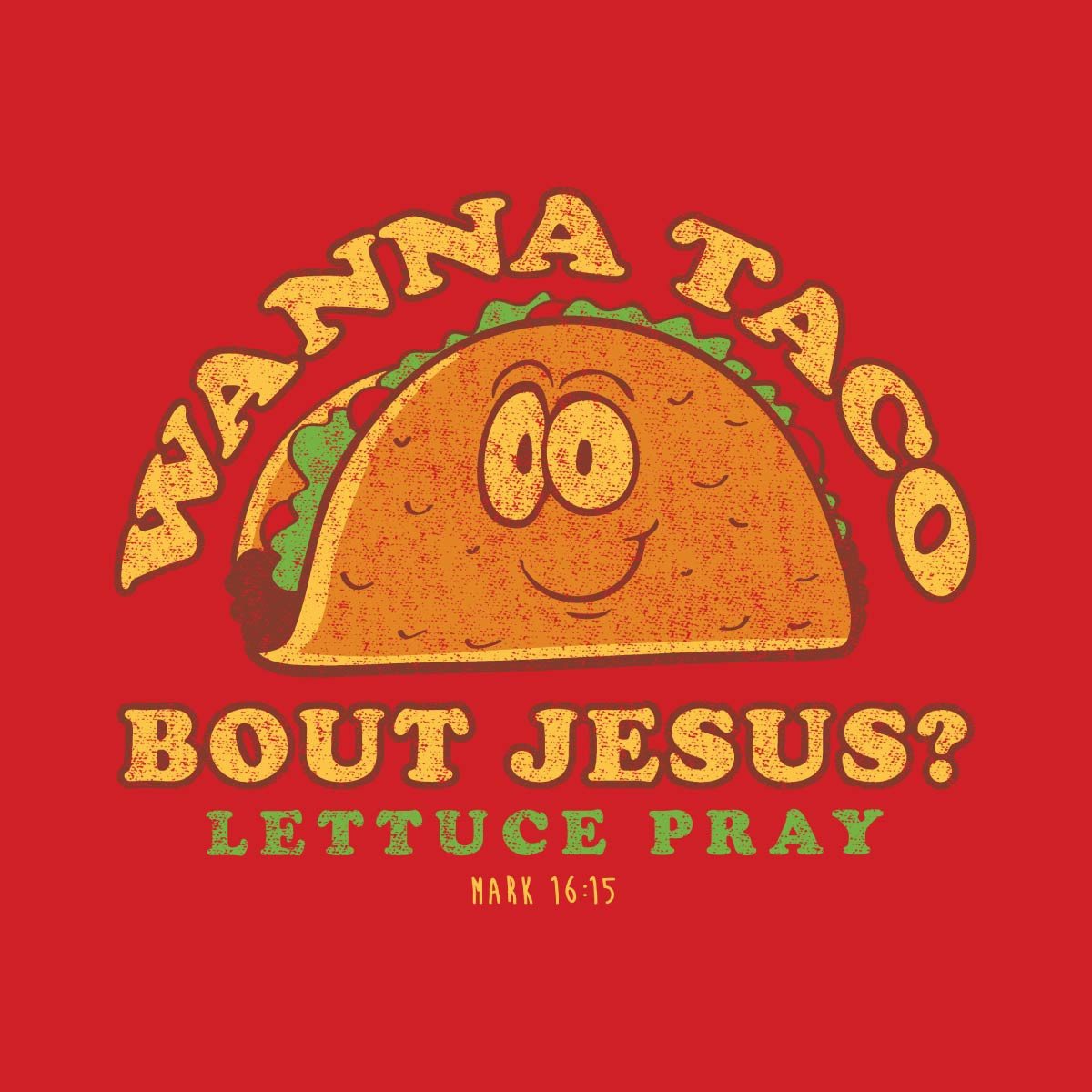 Original Mission Statement
In July of 2016, I made a decision that would completely change the direction of my faith journey. I decided to be an adult leader on my first High School Mission Trip. Looking for a clever, easy way to connect with my youth group I put on my first Jesus T-shirt- "Wanna Taco Bout Jesus?" I haven't stopped putting them on since. Sure it was easy to wear them on a mission trip surrounded by other believers. The real test would be once I got back home into "real" life. Wearing one into work on the first day there was a little fear- (but what I've learned about fear is that it is just the enemy talking- and my Jesus is so much stronger.) The biggest fear was that "They're going to know that I am a Christian." Once I thought about it with a Noah attitude- do I care more about what people think or about what God thinks- there was zero fear. So it went from "Oh no, they'll know I'm a Christian" to "Oh YES, they WILL KNOW." (Ephesians 6:19)
LET THEM KNOW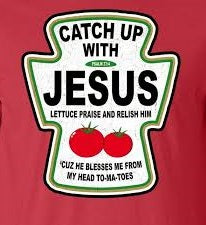 Updated Purpose
One of the scariest statements/questions anyone has ever said to me was "Oh, I didn't know you were a Christian.""You're a Christian?" This should never be a question! My new purpose from that day forward was to simply change the punctuation-
From:
You're a Christian?
To:
You're a Christian!
Just that easy.
CHANGE THE PUNCTUATION
GOD IS GOOD ALL THE TIME. ALL THE TIME GOD IS GOOD.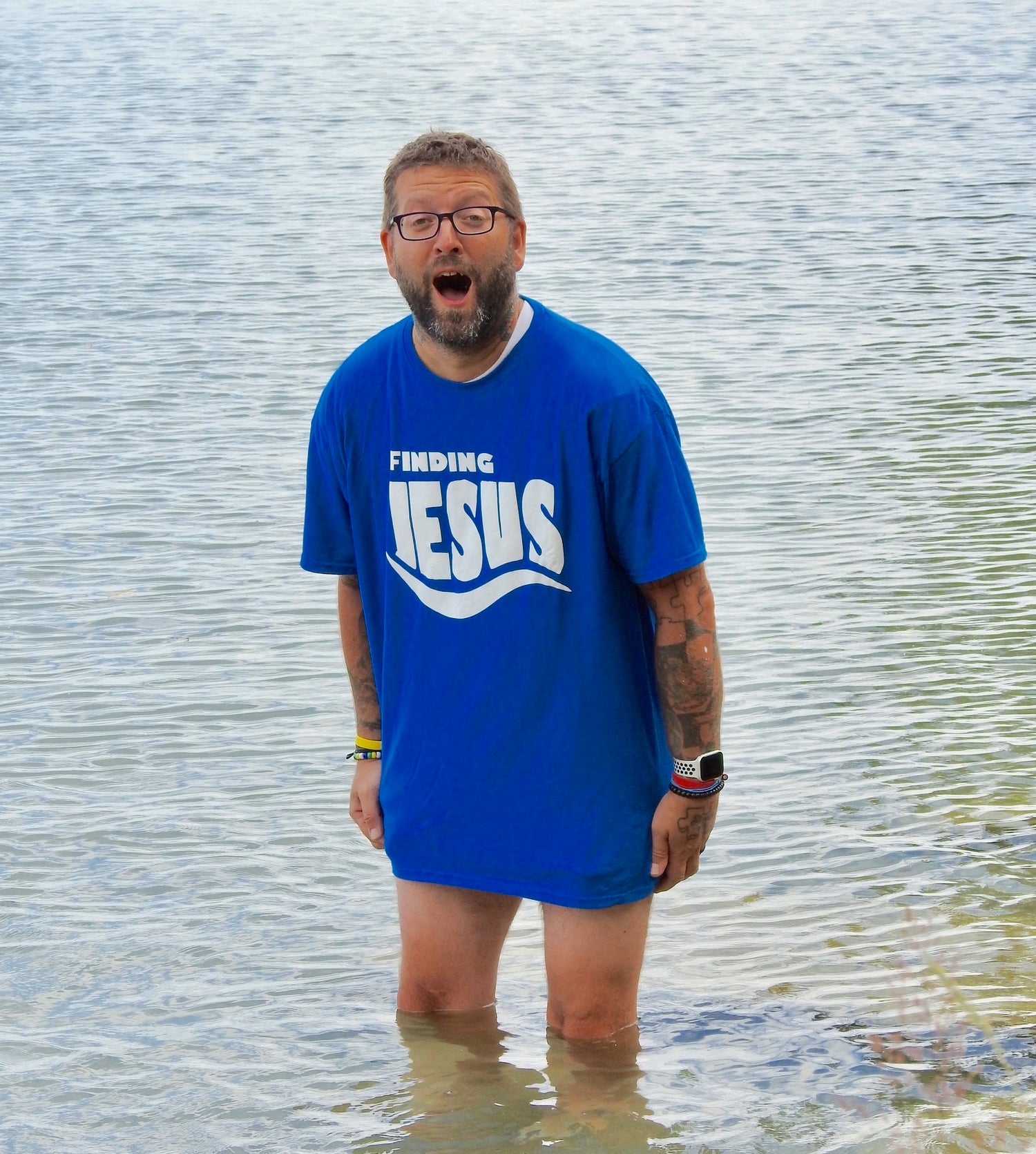 GET OUT OF THE BOAT
The theme for the 2nd mission trip I went on was Peter and having faith to get out of the boat (Matthew 14:29). I've struggled for years thinking this had to be some grand, life changing event. What if it is as simple as everyday putting on a Jesus T-shirt?
(Notice my faith still isn't strong enough to stand on top of the water)
READY TO GET OUT OF THE BOAT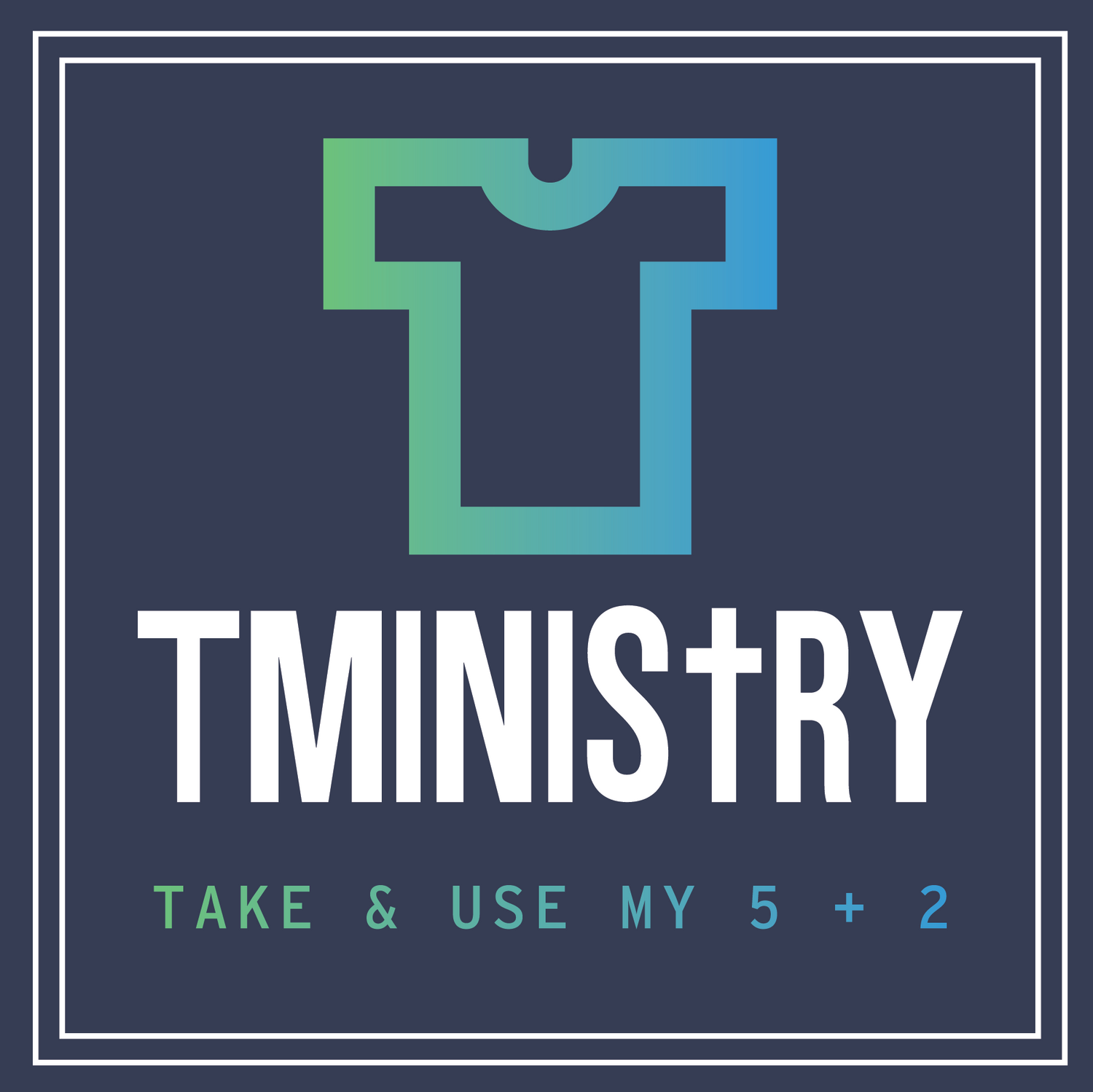 Witness- doesn't need to be a scary word.
Wearing a Jesus T-shirt is an easy conversation starter. I'm shy and lazy and this is a great way to get others engaged with a "not in your face" over aggressive approach. It gives an oppurtunity in the ordinary, every day moments.
READY TO WITNESS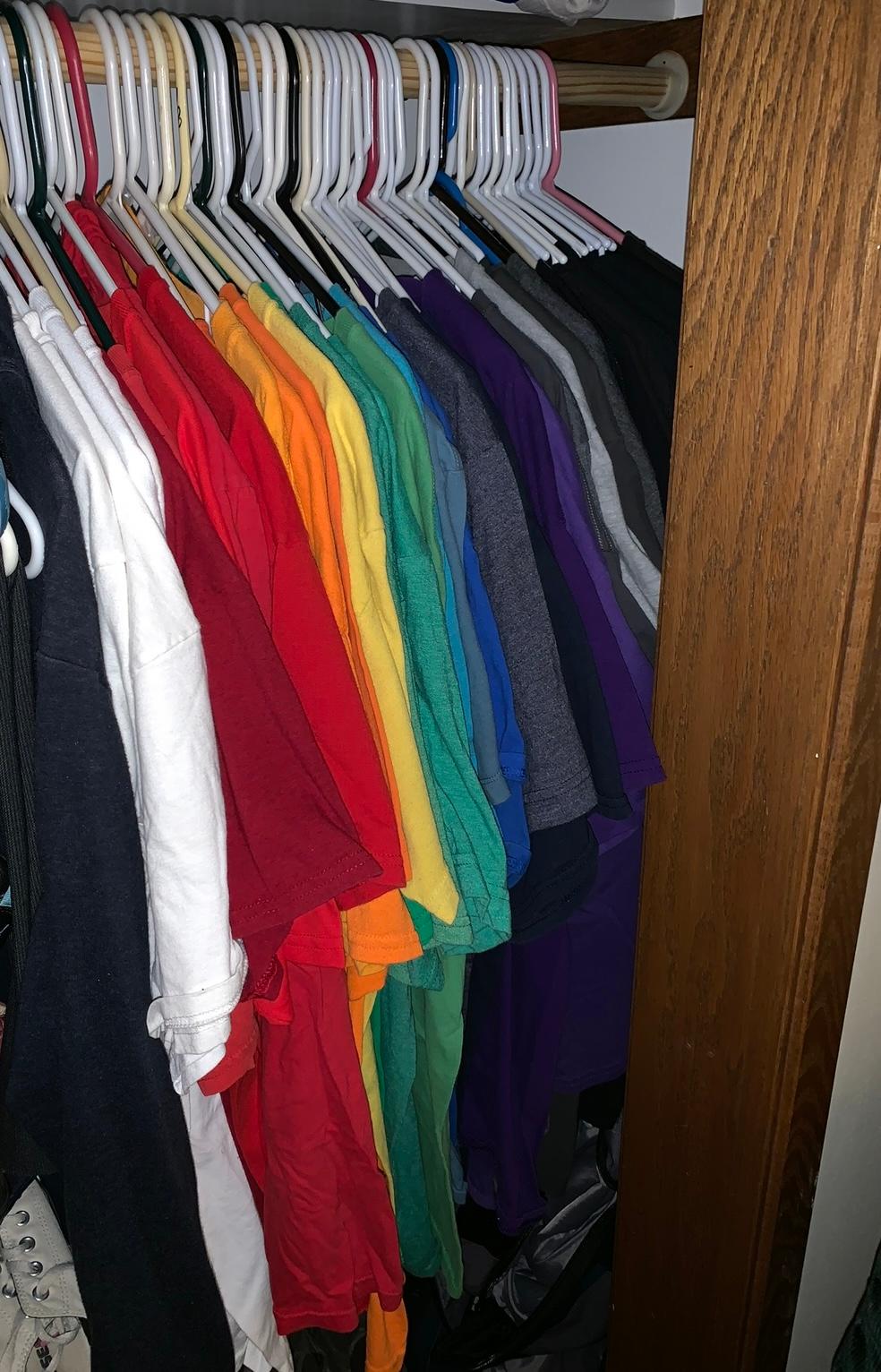 The Collection
So what started as a single T-shirt has grown to over 100 Jesus T-shirts (and still growing).
I even have 2 catergories now: Work shirts and Nice shirts.
Nice shirts go on hangers and get worn for everday occasions.
Work shirts are former nice shirts that are a little "more loved" and get worn when I don't want to ruin a nice shirt.
READY TO GO FROM 1 TO 100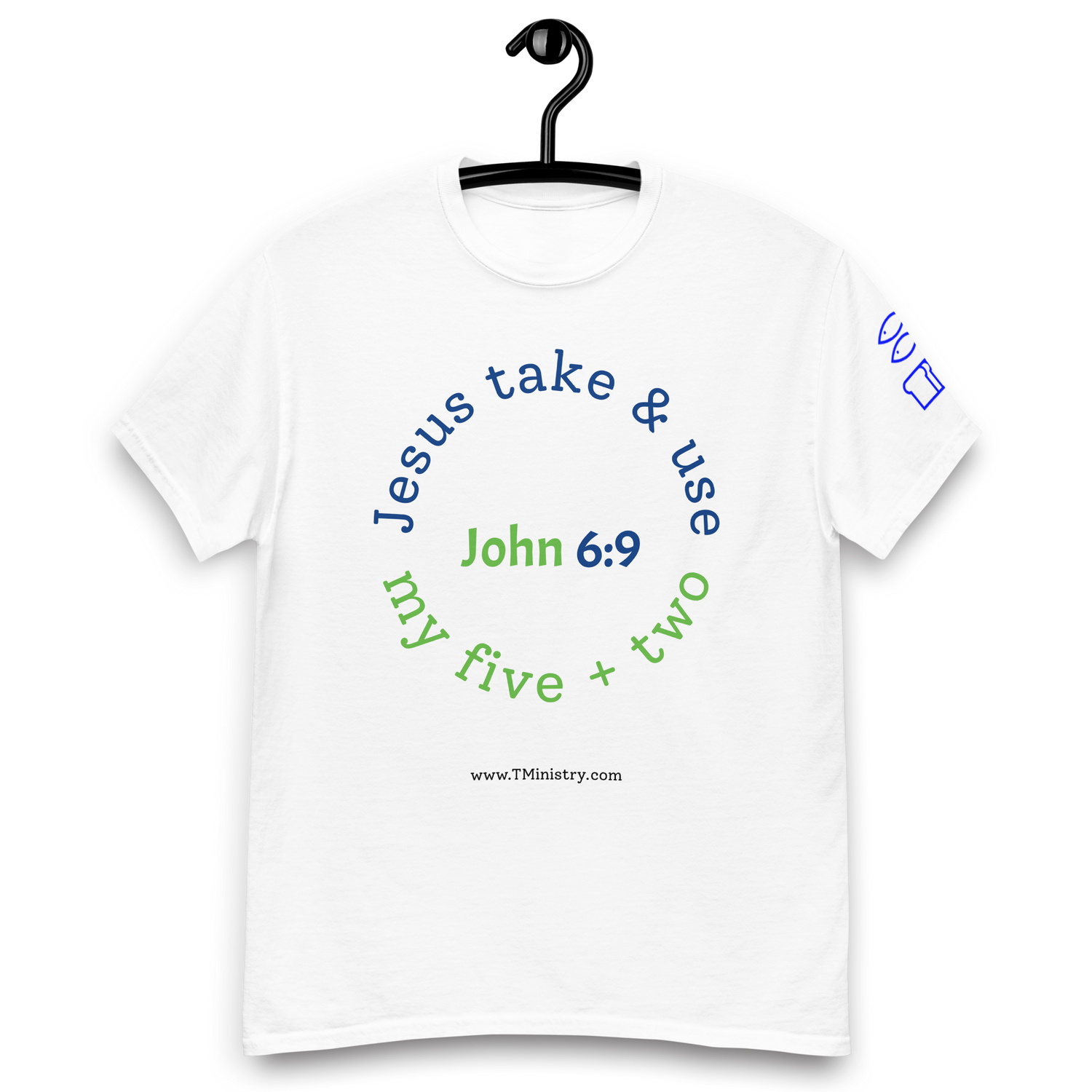 What does 5 + 2 mean?
In John 6: 9-14, Jesus takes 5 loaves of bread and 2 fish and performs a miracle and multiplies them enough to feed over 5000 people. What can my little do? Jesus take and multiply my 5+2. (Not really a proper math equation, but with Jesus math doesn't matter.)
What is your 5+2? What can God multiply through you?
GET YOU 5+2
OTHER INSPIRATIONAL MINISTRIES